GTA The Trilogy Possibly Headed To Steam Soon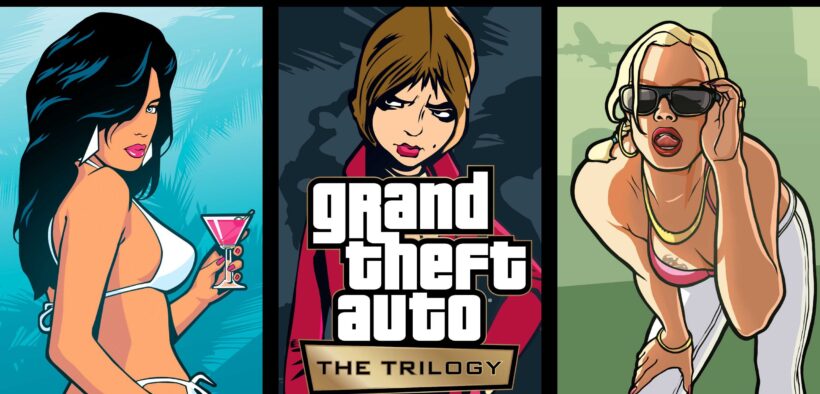 Rockstar Games may be bringing GTA The Trilogy over to Steam sometime soon, based on the latest information.
A member of the GTAForums discovered that the Steam configuration had been added to the Engine.ini file of the PC version of GTA The Trilogy in update 1.04.5.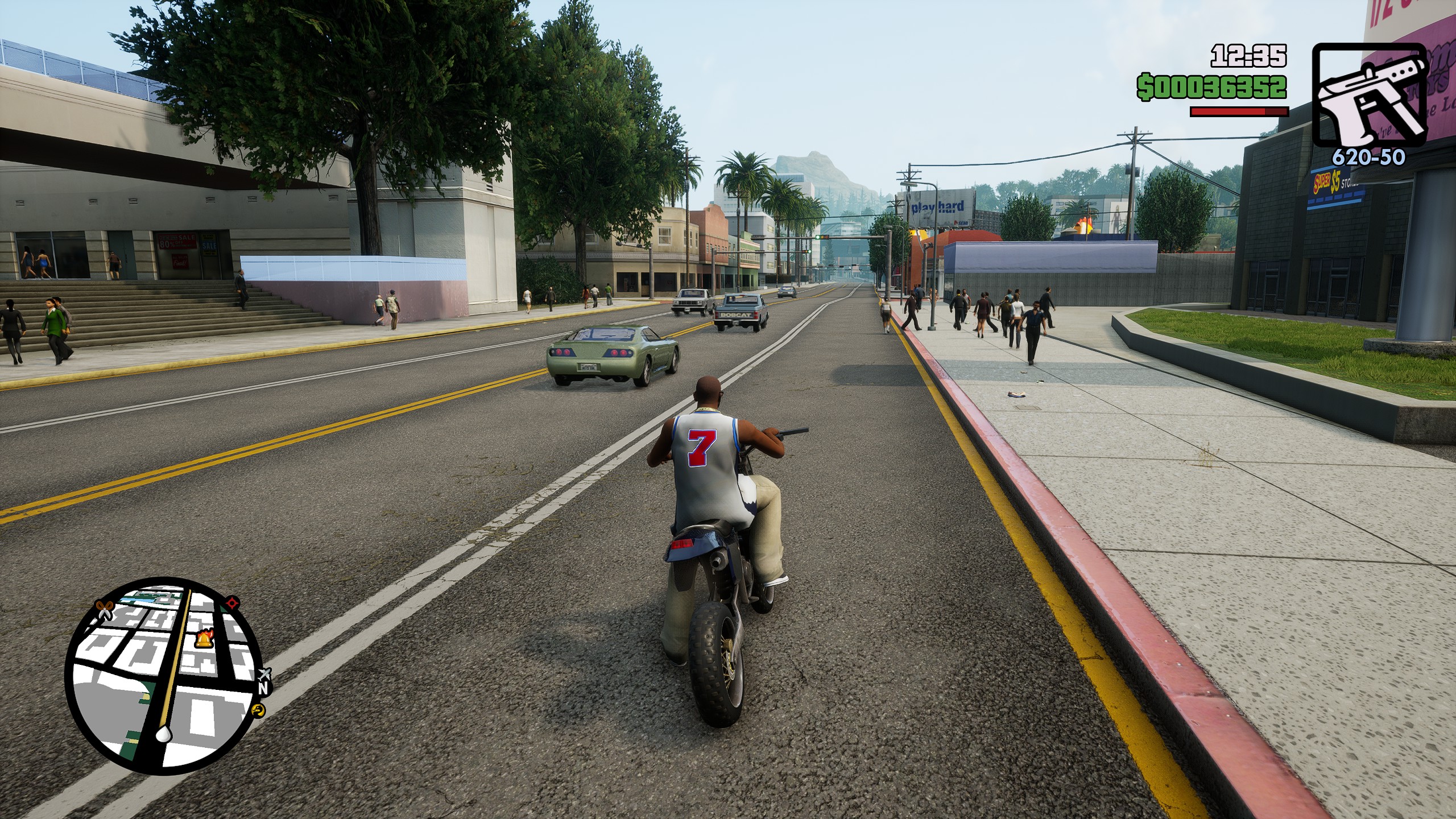 The Engine.ini file post-update 1.04.5 for GTA The Trilogy can be seen below.
[/Script/GooglePADEditor.GooglePADRuntimeSettings]
bEnablePlugin=false
bOnlyDistribution=False

[/Script/Engine.GameEngine]
+NetDriverDefinitions=(DefName="GameNetDriver",DriverClassName="OnlineSubsystemSteam.SteamNetDriver",DriverClassNameFallback="OnlineSubsystemUtils.IpNetDriver")

[/Script/OnlineSubsystemSteam.SteamNetDriver]
NetConnectionClassName="OnlineSubsystemSteam.SteamNetConnection"

[OnlineSubsystem]
DefaultPlatformService=Steam
DefaultPlatformService=EOS
NativePlatformService=EOS

[OnlineSubsystemEOS]
bEnabled=true

[OnlineSubsystemEOSPlus]
bEnabled=true

[/Script/OnlineSubsystemEOS.NetDriverEOS]
bIsUsingP2PSockets=true
NetConnectionClassName="OnlineSubsystemEOS.NetConnectionEOS"

[/Script/OnlineSubsystemEOS.EOSSettings]
CacheDir=CacheDir
DefaultArtifactName=GTASA
TickBudgetInMilliseconds=0
bEnableOverlay=True
bEnableSocialOverlay=True
bShouldEnforceBeingLaunchedByEGS=False
TitleStorageReadChunkLength=0
+Artifacts=(ArtifactName="GTASA",ClientId="xyza7891h8zPJn7ms4tVzEeYZLzanIld",ClientSecret="oQTSY4RAb+WLxLwUDYygf0Qbn9RERIDm7DLZ4V17Emg",ProductId="2cacd187ffac44118c7de12ab0a1adc6",SandboxId="3262906d93334603b399e106492b1217",DeploymentId="a529ac1e9cb64488aa09e3c66610d7d0",EncryptionKey="123123123")
bUseEAS=false
bUseEOSConnect=false
bMirrorStatsToEOS=False
bMirrorAchievementsToEOS=false
bUseEOSSessions=false
bMirrorPresenceToEAS=false

[PacketHandlerComponents]
+Components=OnlineSubsystemSteam.SteamAuthComponentModuleInterface

[OnlineSubsystemSteam]
bEnabled=true
SteamDevAppId=1547000
bRelaunchInSteam=false
GameVersion=1.0.0.0
P2PConnectionTimeout=300
Achievement_0_Id="ACH01"
Achievement_1_Id="ACH02"
Achievement_2_Id="ACH03"
Achievement_3_Id="ACH04"
Achievement_4_Id="ACH05"
Achievement_5_Id="ACH06"
Achievement_6_Id="ACH07"
Achievement_7_Id="ACH08"
Achievement_8_Id="ACH09"
Achievement_9_Id="ACH10"
Achievement_10_Id="ACH11"
Achievement_11_Id="ACH12"
Achievement_12_Id="ACH13"
Achievement_13_Id="ACH14"
Achievement_14_Id="ACH15"
Achievement_15_Id="ACH16"
Achievement_16_Id="ACH17"
Achievement_17_Id="ACH18"
Achievement_18_Id="ACH19"
Achievement_19_Id="ACH20"
Achievement_20_Id="ACH21"
Achievement_21_Id="ACH22"
Achievement_22_Id="ACH23"
Achievement_23_Id="ACH24"
Achievement_24_Id="ACH25"
Achievement_25_Id="ACH26"
Achievement_26_Id="ACH27"
Achievement_27_Id="ACH28"
Achievement_28_Id="ACH29"
Achievement_29_Id="ACH30"
Achievement_30_Id="ACH31"
Achievement_31_Id="ACH32"
Achievement_32_Id="ACH33"
Achievement_33_Id="ACH34"
Achievement_34_Id="ACH35"
Achievement_35_Id=""
As exciting it is to know that the game may arrive on Steam soon, Rockstar Games will likely need to significantly improve the state of the game before putting it on the storefront. The game will require a large list of new fixes and major improvements, or it risks getting many negative reviews from users.
Yesterday, update 1.06 for GTA The Trilogy – The Definitive Edition was rolled out across all platforms. Based on the patch notes, it brings several gameplay changes and bug fixes. In addition, the update also brings improvements to game stability. Several issues continued to linger since the previous major patch that the game received, and updated 1.06 is expected to address most of the issues still seen in Grand Theft Auto 3, Grand Theft Auto: Vice City, and GTA: San Andreas.
Previously, screenshots that were captured via what appears to have been an early build of GTA The Trilogy had found their way on the internet. Christopher Walch, a technical artist/lead 3D artist currently employed by Grove Street Games, shared some screenshots that he claimed were from an early build of GTA The Trilogy on ArtStation.
Grove Street Games was the studio behind the infamous GTA The Trilogy, and the above screenshots offer a glimpse into the development of GTA San Andreas using Unreal Engine 4. The ArtStation page provides some additional details regarding the shader work and material type used for car paint in UE4. The screenshots below show the material instances used on all of the vehicles in GTA San Andreas, GTA Vice City, and GTA III.