Luigi's Mansion 3 has plenty of boss fights. Almost every floor has a new boss. Here's a guide to help you figure out their weakness.
In Luigi's Mansion 3, The Last Resort Hotel has few bosses, each one of them is difficult from one another. Luigi has to defeat all the bosses on different floors of the game in order to save his family from captivity. Defeating the bosses is very tricky but one can easily defeat them by knowing their soft points.
The Last Resort in the Luigi's Mansion 3 has various themed stages which are designed so that they cannot be seen easily in like a disco and pirate ship. Every themed stage has its own guardian ghost who is designed around its concept. This leads to a variety of different boss fights that feel diverse.
Read More: Need for Speed Heat File Size and Day One Patch Revealed
Luigi's Mansion 3 has better and difficult bosses than its predecessor so in order to help people who are facing difficulty with the occupants of The Last Resort Hotel we have made a guide which tells you how to defeat these ghosts.
How To Defeat Every Luigi's Mansion 3 Floor Boss
Floor B1 Boss Steward
In Luigi's Mansion 3, your first boss fight will be with The Steward. There are various methods to kill him. One of his moves is that he will use the suitcases that are spread around the boss arena as a shield and protect itself from Luigi's Strobulb blast. If you want to hit Steward you will need to use the Strobulb so that the steward lifts its suitcase, then you have to use Luigi's Poltergust G-00 to remove the suitcase from his hands. By doing this he will be empty-handed and defenseless. You can again strike him with Luigi's Strobulb blast that will confuse him and you can easily hurt him by a slam attack from the Poltergust G-00. Repeat this three to four times in order to defeat him.
Floor 5 Boss Chambrea
In order to defeat Luigi has to retrieve the suitcase which is hidden inside the Chambrea's body. To harm her, the player has to use the Strobulb to confuse her and then attack her with a plunger shot to the suitcase. Luigi can grab the plunger with the suction ability of the Poltergust G-00 and then slam Chambrea into the ground. Chambrea will flee to a different room once attacked.You can track her by using the special dark light device by checking the corridors, as there will be prints left behind by her on the door of the room in which she is hiding . Repeat the process in order to defeat her.
Read More: Edge Issue #339 Review Scores: The Outer Worlds and More Covered
Floor 3 Boss Kruller
To fight with this boss you have to use Gooigi to succeed. Use Gooigi and send him to the shuttered area by dodging Kruller's Water Pistol attack. If Gooigi is hit by water it will melt him so you have to dodge Gooigi from the water. Use Luigi's Strobulb to cause Kruller to grab his sunglasses and suck them with Poltergust G-00 to knock off the glasses from his head. When the glasses are knocked off from his head, attack again with Luigi's Strobulb and it will confuse him. Grab him with Poltergust G-00 for a slam attack. Repeat the same trick three to four times in order to defeat him.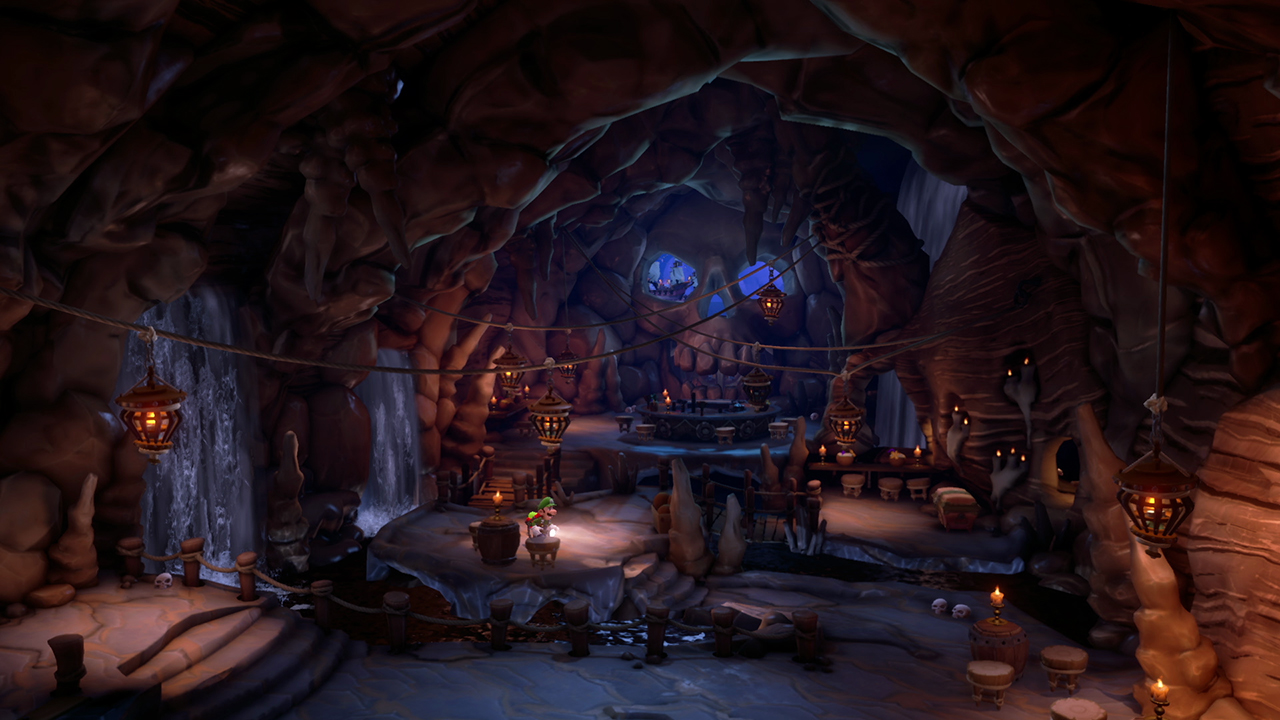 Floor 2 Boss Chef Souffle
Chef Souffle can use his large pan to hide from Strobulb. In order to defeat him, you have to fire a plunger on his pan and then grab it with the Poltergust to take it from its hands. He will be vulnerable afterward and can easily be stunned by using Strobulb and slammed with the Poltergust G-00. After being hit he will start spinning around the kitchen chasing Luigi. He will be invincible during this phase, so you will have to keep running and use ovens as cover. He will come back to a previous state after this attack phase is over and then you can again hit him with the Strobulb and Poltergust G-00 combo.
Read More: How Long To Beat Luigi's Mansion 3
Floor 4 Boss Amadeus Wolfgeist
The battle with Amadeus will start with him flying chairs of the auditorium. Amadeus will try to attack Luigi with the flying chairs you just have to dodge them until all the chairs are gone. After that, he will send a group of dancing ghosts to hassle Luigi but you can easily defeat them by using Strobulb and the Poltergust G-00 combo. Use it to remove their masks, which will make them vulnerable for attack and you can kill them by slamming them down.
Amadeus will then possess the piano and use it to attack Luigi. You just have to dodge the piano's attack and use the stomp to dodge the shockwave when it hits the ground hard. The piano will also shoot bombs at Luigi. Use the Poltergust to grab the bomb and then fire it into the lid of the piano when prompted, which will confuse it. Luigi can then grab the piano with the plunger and then throw it to the ground. After this, Amadeus will appear in full form and then you can hit Amadeus with Strobulb and Poltergust G-00 slam attack to defeat him.
Read More: Location of All Luigi's Mansion 3 Floor 3 Gems
Floor 6 Boss King Macfrights
In battle with King MacFrights he will mount a horse and move around the arena . When he will lift his lance and it starts to glow, the arrow slit will start firing arrows into the arena. If an arrow will hit the opposite wall they will drop healing hearts sometimes.
You have to wait for the moment when King Macfrights will directly charge Luigi and then you can hit him with a charged up Strobulb shot which will make him vulnerable for a plunger shot. You can use Poltergust G-00 to grab him and slam him into the ground. It will break the King's armor and then he will attack Luigi in his spirit form with his shield. He will become dizzy from chasing Luigi and will be open for a hit from the Strobulb and Poltergust slam attack. Repeat to defeat him.
Floor 7 Boss Dr. Potter
For this battle, you will have to grab a saw item with the Poltergust G-00, which will be hidden in the arena. You have to find it and grab it. Dr. Potter will be hiding behind his potted plant and he will use his potted plant to attack Luigi. You will have to wait for the potted plant to grab onto another flower when it attacks and then quickly chop it half with your saw. This will make Dr. Potter Vulnerable for the attack with Strobulb and Poltergust G-00. Repeat this to defeat him.
Read More: How To Get All Death Stranding Trophies Guide
For more guides on Luigi's Mansion 3, check out Secret Boos, Rare Ghosts, and how to play multiplayer co-op with Gooigi.